By JOE BELANGER, The London Free Press

It was more than a feeling that something special was happening in London Saturday night.

Boston welcome to London. London welcome to Boston. Boston welcome to Rock The Park because Harris Park rocked.
Three guitars, a solid back beat on drums backed by a heavy bass and keyboards with vocal harmonies that never missed and an estimated 10,000-plus fans left Harris Park satiated, most wanting more.

Boston closed out the ninth annual festival to raise money for the Bethany s Hope Foundation and if there was a disappointment it was that they couldn t play longer.

Led by founder Tom Scholz on lead and rhythm guitar, this configuration of the band whose members -- Gary Pihl (1985) on lead and rhythm, Curly Smith (1994) on drums, David Victor (2012) lead guitar and vocals, bassist Tracy Ferrie (2012) and Tommy DeCarlo (2008) on vocals truly matched anything the original band did.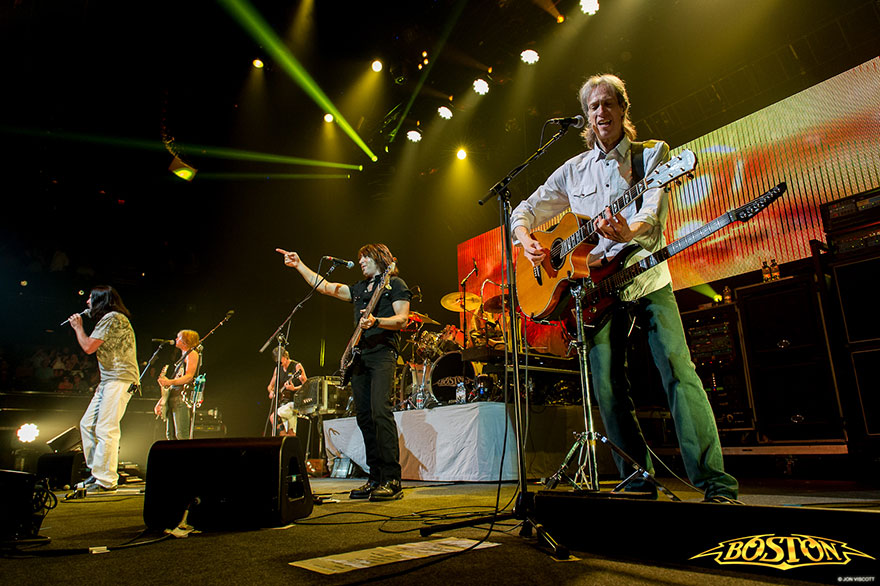 The dueling lead guitars were simply amazing on just about every song the band played, from the opening Rock and Roll Band to Smokin to More than a Feeling to Don t Look Back.

And the harmonies never missed.

DeCarlo isn t quite the late Brad Delp (who committed suicide in 2007) but his vocals are wonderful, hitting almost every note of his predecessor whose voice, combined with Scholz s guitar was what defined the band.

They nearly destroyed the crowd with Foreplay/Long Time, the anthem from their first album, Boston, that set this band on a track to stardom, selling more than 17 million copies, the second best debut album in U.S. history behind on Guns N Roses Appetite for Destruction.

Of course, Guns N Roses guitarist Slash was the headliner opening night at the park.

Saturday was a special day. In fact, immediately after REO Speedwagon left the stage, organizers Brad Jones and Dave McIntyre of Bethany s Hope Foundation, the recipient of well over $1 million from the three-day music fest, announced it was the most successful since it began nine years ago.

With an REO Speedwagon performance that sounded and felt more like a headliner than the set-up act for Boston, it s no wonder.

The band, which has sold more than 40 million albums since they exploded on the music scene in 1980 with the album Hi Fidelity, kept the crowd of at least 10,000 singing and dancing and swaying and calling out for more when the set ended.

From the opening number, Go Play, front man and lead singer Kevin Cronin (rhythm guitar and piano) had the crowd in the palm of his hand introducing hit after hit, backed by lead guitarist Dave Amato, bass guitarist Bruce Hall, Bryan Hill on drums and the one remaining founding member (since 1966) Neal Doughty on keyboards.

Of course, Cronin and Hall have been around since the early 1970s before the band s breakthrough album Hi Fidelity, which included the hits Keep on Loving You and Take It On The Run.

For the third night in a row, rain was a factor, starting moments after opening act Prism finished their set and ending before 54-40 took the stage 30 minutes later.

There was one other brief period of light rain, then the cooler air moved in and it was a near-perfect night for a concert.

Instead of discouraging the crowd, it appeared the rain rejuvenated their spirits by cooling the air a little from the blistering sunshine.

Easily one of the surprise acts of the three days was 54-40, the Vancouver band that had a series of hits through the 1980s and 90s, a band that hasn t lost a bit of their edge.

Singer-guitarist Neil Osborne, along with bassist Brad Merritt, drummer Matt Johnson and lead guitarist/keyboardist Dave Genn were flawless.

From Lies to Me to I Go Blind, Love You All, Crossing a Canyon, this band s music drove the audience to their feet, hips swaying and lips mouthing every word until the final note of Ocean Pearl.

Canadian rockers Prism opened the festivities, delighting audiences with songs from across the spectrum of their 35-year career.

It was like a trip down memory lane as the band, fronted by guitarist/singer Al Harlow, got many in the crowd dancing to about a dozen of the hits that marked Prism s first decade.

The set included such memorable hits as Spaceship Superstar, It s Over, Take Me To The Kaptin, Night to Remember, Young and Restless, and Armageddon

While they may have lost a little on the vocals, Harlow still impressed with some of the notes he hit while his showmanship, especially on the guitar, was infectious.

Rock the Park is the key fundraiser to help raise money for the London-based Bethany's Hope Foundation.

Over eight editions, Rock the Park has helped pay for London-and UWO-tied research into MLD (metachromatic leukodystrophy).

Rock the Park has raised more than $1 million for the foundation over the years.

This email address is being protected from spambots. You need JavaScript enabled to view it.