June 12, 1951 - March 9, 2007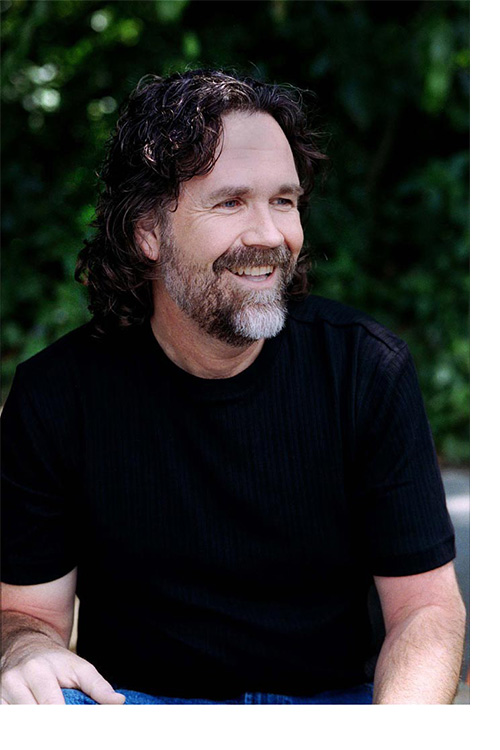 To anyone that's ever had the pleasure of listening to Brad belt out a tune, it's clearly evident that he was born to sing. From an average suburban kid with a penchant for music, to the voice of one of the most successful rock bands of all time, Bradley E. Delp always remained true to who he was. The music business has its share of notorious icons living life on the edge, but Brad lived his life in a different manner...he was often referred to as "the nicest guy in rock and roll." Just about anyone that ever encountered him would agree that the moniker fit this atypical rock star. The world was graced by this gentle and kind soul for 55 years, but on Friday, March 9, 2007, Brad took his own life, spurning a global shockwave of sadness for all that knew him, as well as those that didn't, but who's lives were touched by the sound of his magnificent voice.
Growing up in Danvers, Massachusetts on Boston's north shore, Brad was bitten by the music bug at the tender age of 13, after seeing The Beatles on The Ed Sullivan Show. That fateful experience would lead to a long love affair with the British band that would always be a part of his life. He immediately ran out to buy his first guitar, and went to work at learning to play. Shortly thereafter, he joined his first band, The Iguanas, a short-lived endeavor that soon morphed into The Monks, a band that Brad played in throughout his high school years.
Upon graduating, Brad honed his unique singing style by performing in various clubs regularly in the early '70's, a welcome respite from his day job, where he worked in a factory making heating coils. Barry Goudreau, another north shore musician, brought Brad to the attention of Tom Scholz who was recording demo tapes in his basement studio at the time. It would prove to be one of those serendipitous chance encounters that inevitably changes the course of history. Tom recalls, I met Brad, soft spoken and unassuming, when he auditioned in a recording studio outside of Boston one night to sing several songs I had written. He didn't warm up; he just listened to the prerecorded instrument track once. Then he started to sing. I don't know if it took two seconds or three, but before he finished singing the first line I knew that some guardian angel had just delivered to me one of the best vocalists ever to step up to a microphone! He continues, Then he kept going and I realized he wasn't just one of the best, he was amazing! High notes I hadn't heard before followed by harmonies, and overdubbed exact duplicate layered tracks, all with ease, all with emotion, and yet all technically precise. Before we left that night he had rewritten the lyrics and the melody, sung all the vocal parts, and with the magic of his voice turned my stark guitar riff into a song! From that moment on, I only hoped I could write and record music worthy of his attention and interpretation.
Brad and I banged our heads against the wall trying to get a break with record companies for five years. During that time he and I did a lot of basement recording; we received absolutely zero recognition locally and complete rejection submitting our demos to national record labels, Tom remembers, adding, I think this experience put our future success in perspective as we both realized that after so many years of insult, we were just very lucky to be able to record and play music above ground! Their dedication finally paid off, when the two were offered a recording contract with Epic Records. Released in 1976, the self-titled Boston album was the best-selling debut record of it s time, and has sold over 17 million copies to date, the 9th best selling record, ever.
Not only did he possess one of the most recognizable voices in the history of rock music, but Brad Delp also played guitar, keyboards, and harp. In addition to being blessed with those golden vocal chords, he was also a talented songwriter, and wrote or co-wrote with Tom several songs on the first two BOSTON albums, as well as on their fourth effort, Walk On. Singing lead and all the harmony tracks (4-6 depending on the song) on the first 3 BOSTON albums, Brad's voice became an international treasure, heard around the world on a daily basis. He also joined in BOSTON's studio efforts for the Greatest Hits and Corporate America releases.
Creating the ethereal vocal masterpieces seemed second nature to Brad. Tom recollects, There were soulful notes that pulled you into the song, stratospheric screams and angelic high notes, and after hitting these record breaking notes he'd go back and sing a harmony part above it! He didn't rehearse any of these parts, he could jump back and forth between harmony parts, double tracking parts, and then go back and do it again exactly the same with one tiny change, adjusting all the other singing parts to fit with bionic accuracy. The 35 year relationship between the duo grew into one that oftentimes needed no words for communication. Brad once noted, Tom and I know each other so well. When we go in the studio there is a little bit of ESP. For anyone that's ever listened to Brad in rehearsals, watching him tweak the harmony parts with his band mates was a special treat, he was a true master at his craft. BOSTON guitarist Gary Pihl says, Over the thirty years that I knew Brad, he seemed happiest when he was making music. His enthusiasm for working on our songs never waned.
Brad shared his incredible gift with millions, touring with BOSTON seven times over the course of his career. He was well known for his innate ability to make everyone that he encountered feel special, as if there were no one else in the room. His fans rave about what a personable and unpretentious man he was, as do his band mates. Tom states, You'd think anyone with this super human talent would be an insufferable egomaniac. But Brad was just the opposite, and amazingly he remained honestly humble in spite of the incredible star pressure that followed BOSTON's success. Drummer Jeff Neal says, There's not much more that can be said about him that hasn't already been said a million times. One of the most distinguishable voices in all of popular music, and also one of the nicest, most down to earth guys you'll ever have the pleasure of meeting. I have never seen anyone who seemed so effortless at what he did, whether it was singing those classic lines from the first album or working a room at a meet-and-greet. Gary Pihl adds, "I've been in other bands where we avoided talking to fans. Brad went out of his way to make sure he met everybody, signed all the autographs they wanted and took pictures with any fan who has a camera! He'd be the last guy to get on the bus at the end of the night because he'd be talking and signing autographs for fans who had waited at the back gate."
Jeff says, If there were such a thing as a rock & roll university, Brad would have been my first choice for teaching How to be a Rock Icon 101. He was self-effacing, kind-hearted and always willing to share the attention. He also had one of the quickest wits around. Kimberley Dahme, BOSTON s bassist agrees, saying, I'll never forget the first singing lesson I got from Brad. I'd just joined the band, and Brad told me to sing my harmony parts like this, Be a girl, sounding like a boy, trying to sound like a girl. Like his angelic voice that was always there, so was his great sense of humor. Tom says, Although I rarely remember seeing him in the throws of a good belly laugh, he could keep the people around him in stitches effortlessly, and did so on a daily basis. Former BOSTON bass player David Sikes recalls some of the fun he had with Brad on the road, Fielding Mellish was Brad's registered hotel name on tour. Mine was Stiffle Hawks. I was also Moe Howard for a while. Brad and I especially had a lot of fun with these names, we were like two sneaky kids getting away with something. Brad was a huge movie fan...he could tell you who directed and starred in tons of movies, Woody characters were some of his favorites."
After a hiatus from BOSTON in the early '90's, Brad returned to Scholz's studio to lay some tracks for Corporate America. Over the years, he lent his songwriting and vocal talents to several projects including the solo album by Barry Goudreau, Orion the Hunter, and RTZ. Most recently, in 2003 Brad and Barry released their collective effort, Delp and Goudreau. When not touring with BOSTON, Brad was involved with a Beatles tribute band called Beatlejuice. Tom claims, "They sounded more like the Beatles than the Beatles did!" Delp cited the ebony porn Fab Four as his greatest influence, and had been a huge fan since he first heard them over the airwaves.
Regardless of which band he was performing with, Brad always gave his all to the fans that unquestionably adored him. He once said, "I never get tired of playing because every show is different. Wherever you do the show, there's a certain amount of pride because you don't want people to go away disappointed." Anyone observing the audience's reaction at any given show would see that they never tired of seeing him perform, either. A few years back, Brad was explaining what it felt like to perform the Beatles songs that he loved so much, stating, I tell people that it is the only thing that I can do that makes me feel 15 again; it really does. The BOSTON thing is the only thing I can do that makes me feel 25 again. At 52, 25 is not that bad an age to be. To all the fans that Brad left behind, his legendary voice will always be timeless.
A vegetarian for 38 years, Brad was a compassionate soul who dedicated time and money for various charitable causes that were dear to his heart. Until the time of his death, he lived in New Hampshire's Merrimac Valley with his fianc