Posted: Monday, July 16, 2012

By ROBERT DiGIACOMO Atlantic City Insiders

Five years after being discovered by the veteran rock group Boston, lead singer Tommy DeCarlo still has to pinch himself.

I still am pretty overwhelmed by it all, especially when I m out in front of a sold-out venue, says the 47-year-old DeCarlo, who performs with Boston on Saturday, July 21, at Trump Taj Mahal Casino Resort in Atlantic City.

The married father of two was working as a credit manager at a Home Depot in Charlotte, N.C., when Boston founder and main guiding force Tom Scholz tapped him to replace the late Brad Delp, who died of a reported suicide in 2007.

DeCarlo s faithful covers of Don t Look Back and other Boston tracks on his MySpace page caught the attention of Scholz, who added him to the lineup, despite DeCarlo having little professional experience.

It s been totally overwhelming, DeCarlo says. At the same time, I couldn t think of a better thing I d be doing at this point in my life than touring with a legendary rock band like Boston.

Boston is somewhat of a rarity among its peers, in that the group has only released ebony porn four albums since its mega-popular 1976 self-titled debut, which sold 17 million copies and yielded three of its biggest songs: More Than a Feeling, Long Time and Peace of Mind.

The group, whose only original remaining member is Scholz, is in the process of recording its sixth album.

Ahead of Boston s A.C. appearance, DeCarlo talks about how he went from being a Boston fan to its frontman, and why he feels a special duty to stay true to its original sound.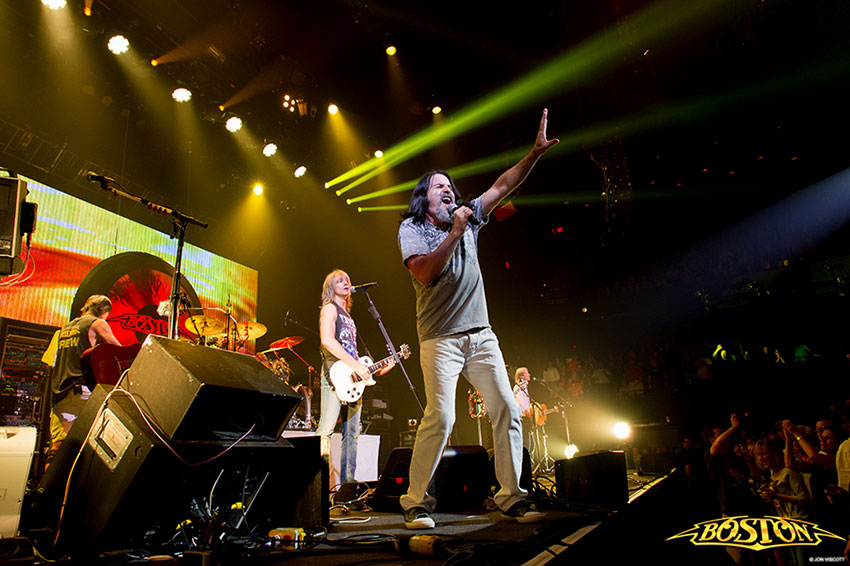 Q: So listening to the radio as a kid really paid dividends for you?

A: Growing up, I never had any vocal lessons or training of any kind. When I first started to sing, Brad Delp was one of my earliest influences. I loved the music so much, it was easy to sing along. Being a young teenager, I probably spent days and days and days at the time just singing the music.

I didn t go out to try to sing like Brad Delp. How it came out, it came out. Fortunately, years later Tom Scholz was in a position to hear my singing. I m happy he liked it it made things a lot easier.

Q: Have you tried to re-interpret the songs, or do you stick by the album versions?

A: For me, the approach is to stay as close as I can to the album, because that is what the fans remember most. Boston is not a band that tours very often, nor has it come out with any live albums.

In rehearsals, we ll pull out the original tracks and listen to them to make sure we can come as close to the original arrangements as possible.

Q: How difficult is it to nail those high notes night after night?

A: When (Brad) recorded a lot of the stuff, he was a young guy. If I had to go back in my 20s, I could probably hit the notes a lot easier. When you re pushing 50, it does get to be a challenge. Fortunately, I have a pretty decent voice, so I can get there.

Q: Why do you think Boston s music endures?

A: We can be rehearsing for days or weeks at a time. The rehearsals are long and you get tired. But there s something about the music that just brings you to life. No matter how many days you ve been rehearsing, no matter how tired you are that day, the minute a Boston song starts up, there s something about it. You come alive.

Q: Has it been difficult to reconcile family life with the rock n roll lifestyle?

A: A lot of people are surprised that this is a very healthy band. Tom is a vegetarian, and has been for many, many years. It s all about being in good health and being able to stay physically fit to perform for people who sometimes come from two or three states away to see a show.

I lucked out with a wonderful wife and great kids I couldn t ask for anything more. One of the most exciting things is they get to share in this as well. They come out to shows. Because my son and I saw Boston twice together we sat in the nosebleed seats it s really cool for them to see how things work from the inside. I love that I can share all of that with my family.
Photo:
blog comments powered by

Disqus