Boston guitarist-songwriter Tom Scholz recalls the creation of his band's enduring debut single

by Clark Collis • @clarkcollis
Forty years ago, the band Boston released its debut single, "More Than a Feeling." The song was a big hit, reaching No. 5 on the Billboard chart — but that was just the start of the story. "More Than a Feeling" became an enduring radio staple, one which established Boston among the biggest rock acts in the country and which helped turn the band's eponymous debut album into a huge seller. This bittersweet tale about the power of music also helped define an entire genre of immaculately-produced, and performed, pop-rock.

Over the years, "More Than a Feeling" has been covered by an absurdly diverse collection of acts, from *NSYNC to Nirvana, whose own classic track "Smells Like Teen Spirit" bore a striking, and much-noted, similarity to the Boston tune. The song has also appeared on a host of films and TV shows, including Close Encounters of the Third Kind, The Sopranos, and, most recently The Walking Dead.

If the idea of an unknown — and deliberately anonymous — band having such an impact with its first ever release is incredible, then the way the song was crafted is no less so. In a rare interview, Boston founder, guitarist, songwriter, and producer Tom Scholz recalls the crazy creation of "More Than a Feeling" in his own words below.

It really started when I was four or five years old. My parents turned me loose with a monophonic hi-fi system and their classical record collection. There was no stereo. In fact, there was no stereo for about another 15 years. It's unbelievable. So, I heard all this classical music. I would sit there, for hours and hours, sometimes day after day, just listening to classical music. I listened to classical albums and I mean actual albums, the ones that came in an album.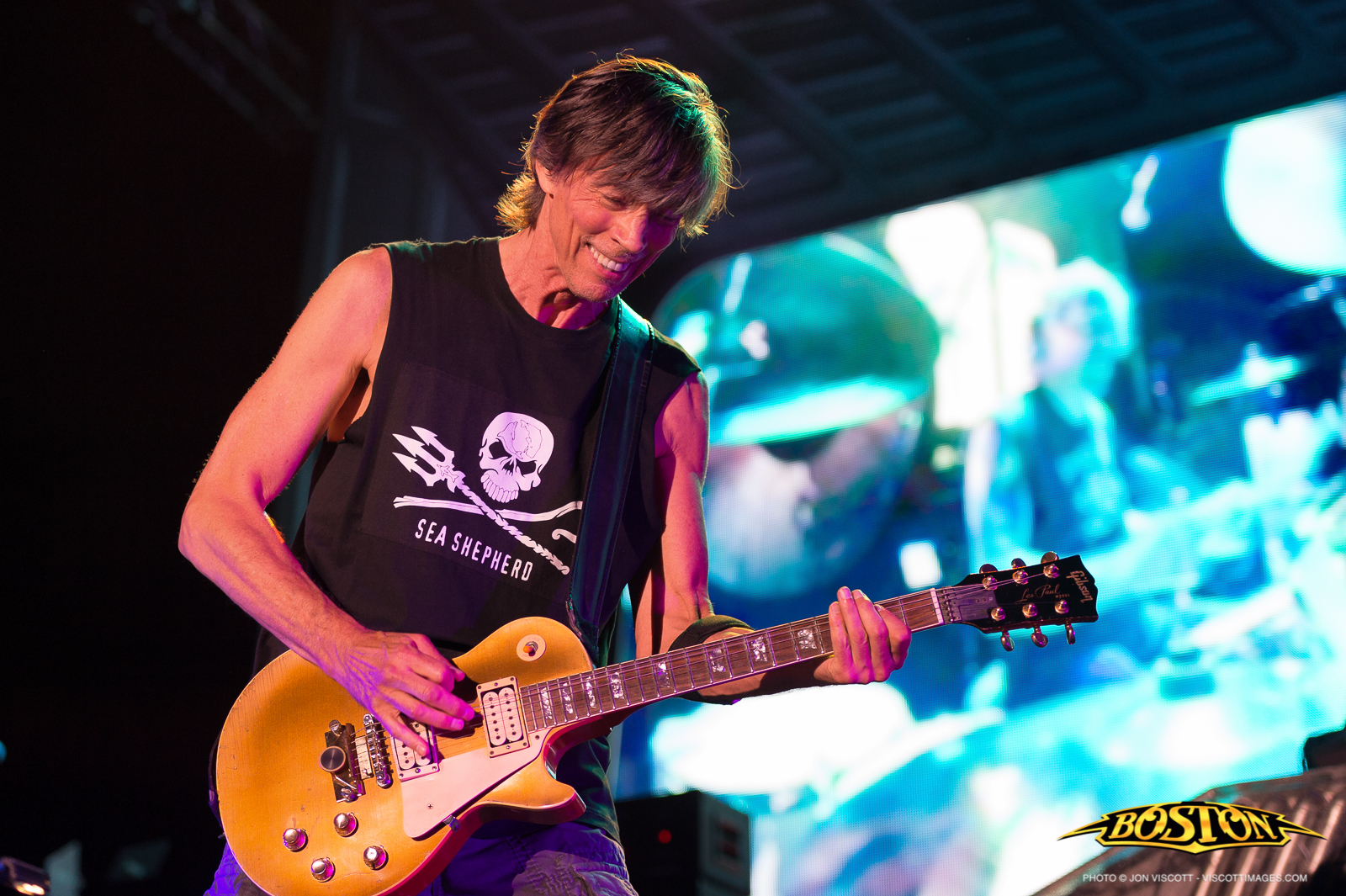 Image Credit: Courtesy of viscottimages.com

I didn't actually pick up the guitar until I was about 21. It was my junior year at MIT. I was playing music in really bad bands but having a good time. I got the bug and wanted to do it a little more seriously. Then I went to work for Polaroid in Cambridge, Mass. I was a product design engineer and I learned a lot about audio-electronics and tape-recording, which enabled me to start building studio equipment and start understanding how to make recordings. It was a very long process of learning a lot of technical things and a lot of musical skills. All Boston records have all been recorded in my basement studio. Now, we have changed basements three times since that initial one, but they're all basement recordings! My initial studio was horribly under-equipped. When I started, I had very little cash, so I actually built the first four-track recorder that I used and I built a very crude mixer.

The drummer for all of my demo work was a guy named Jim Masdea, who was a very creative guy. He played on a couple of songs on the first album and then came back and played on about half of the third album. Other than the drums, I played all the instruments on the demos. I would create the recording, except for the vocals, and as far as anybody could tell it was a full band playing. I spent six years learning how to create the music all by myself. It was the only way that music ever could have seen the light of day. I tried doing it ebony porn using other musicians. I could never get what I was looking for. I had to get other people completely away from me. That enabled me to come up with the arrangements, and the sounds, and then once I got the actual "band" recorded, Brad Delp (Boston singer) would come in, and he would lay down a quick melody, and then start laying on harmonies.

I spent six years submitting dozens of recordings to dozens of record companies and I got nothing but rejections. By this point I was 29 and I decided it was time to get responsible. I was married. We weren't rolling in cash. This was going to be my last demo — and "More Than a Feeling" was the last one that I completed. Epic Records got that song and a couple of weeks later, Brad Delp and I had an offer to become recording artists.

The song was not written about an actual event. It was written about a fantasy event. But it's one that almost everybody can identify with, of somebody losing somebody that was important to them, and music taking them back there. There actually was a real Marianne. She was my older first cousin, who I had a crush on when I was 10. I ran into her many many years later and she was very annoyed at me for mentioning that she was my older cousin.

It's a piece of music that really takes me to someplace else when I listen to it. Which is my criteria for whether a recording I come up with is worthy of going on a Boston album. I shut my eyes and I play it at the end of a long day in the studio. If I still enjoy it, and it takes me some place else, and I forget about all that I had to go through that day, then it's a winner. "More than a Feeling" did that for me.

Epic [Records] insisted that the album be rerecorded in a "professional studio" by a "professional producer." They chose a very nice guy named John Boylan. He came to look at my studio and he said, "Well, obviously, we can't do it here. We're going to have to go to New York or LA to a real studio and do it." And I said, "Well, that's not gonna happen. Because if you take me out of my element, to a studio where I can't do what I've done here, then I won't get the same thing." He threatened to leave and I said, "Well, if you have to quit, I understand, but if this record does get recorded, the only way it's going to happen, is here in my basement." So, at the last minute, he said, "Tell you what, you record here in your basement, with your crazy equipment, and bring that tape to L.A., and we'll mix it together." I was just about to say, "That's awesome!" Before I could get the words out, he said, "And we'll split the producer's royalty." I said, "Now you're talking!"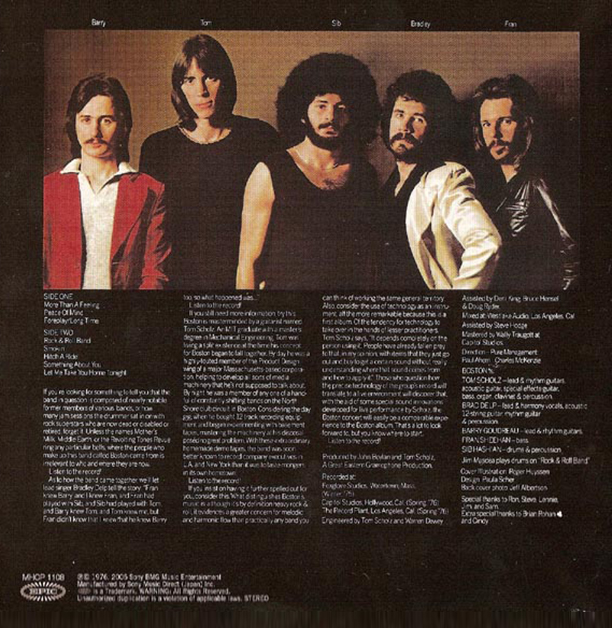 Image Credit: Epic Records

"Boston" was the working title of the project. It didn't become the official name until the album was getting mixed and somebody at the studio said, "Well, why don't you call it Boston?" It was an obvious choice for me because I grew up in Toledo and at night in you could receive WBZ from Boston, which at that time, back in the '60s, was playing the new English rock. I was amazed at what I was hearing and that was what got me interested in rock'n'roll. So, the name fit.

The band that was signed was simply Brad Delp and myself. It was a "faceless" band — and I personally think it should have remained faceless. I was a little shocked to see the picture of what was to be the touring band on the back cover. If Brad and I had wanted to do our ego trip we could have called it Scholz-Delp, or something like that. The whole idea for me was that the music was an escape for people, something which takes them to a different place. I didn't want them thinking about personalities. I wanted them thinking about something totally unrelated. So, the guitar-spaceship flying off into the unknown [on the front cover], that was the perfect sort of metaphor for that.

Once I finished mixing the album, and delivered it, I went back to work at Polaroid. I had been rejected by everyone with everything I tried to do, and so I didn't expect anything. What I was hoping for was that I might have one song off of this album that a local station would pick up and play. So, I could go out with a band in the local area, as a hobby, and play music that some people would recognize. That's what I was hoping for.

My office at Polaroid was in this section of the building that I adopted as my own sort of secret laboratory. One week, people kept running into my office-lab yelling "Your song's on the radio in the drafting room!", "Hey, 'More Than a Feeling' is playing in the model shop!" I would go running out. I would always just hear the fade-out. I didn't hear that song all he way through on the radio for months after it was in the top ten. But once that started happening, I thought, Wow, well, I may have got lucky here.

We were offered an opening stint on an arena tour with Black Sabbath, of all bands. Black Sabbath! I decided, Well, I had to do that, because I thought I wouldn't get another chance. So, I took a leave of absence, did the shows, and then I went back to work at Polaroid again. Well, I was only back there for a few weeks and I got the message that they wanted us to go on a headline tour. That's when I left Polaroid. I said, "Well, alright, if we can headline arenas, and I've got a song in the top ten, and I've sold over a million albums, I can probably safely stop being an engineer for this year.

We started on the headline tour and one of our stops was Madison Square Garden. It was our first time playing New York City. A lot of people were upset at that. They didn't think that it was right that a band should play Madison Square Gardens on their first trip into New York City. I always wished I could have said to all of them, "How would you like to work in your basement for six years and then go play Madison Square Garden? Maybe then it would be right!"

In the 40 years since the release of "More Than a Feeling," Boston's debut album has sold a remarkable 17 million copies while its follow-up, 1978's Don't Look Back, has shifted 7 million more. Singer Delp died by his own hand in 2007 but Scholz continues to record and tour under the Boston banner. The band's sixth album, Life, Love & Hope, was released in 2013 and Boston begin their 40th anniversary tour at the Seminole Hard Rock in Hollywood, Fl., on April 29. The shows will conclude with a date at Boston's Wang Theatre, on Aug. 14, the band's first proper show in the city since 1994. Fans expecting to hear "More Than a Feeling" will not be disappointed. Scholz continues below.

I'm not one of those artists that refuses to play their top 40 hits. I love "More Than a Feeling" and the arrangement that we play live: we have a cool start for it, that people haven't heard before, and we have a huge long extended jam at the end that a lot of people come back to see us just to hear that.

I was very surprised forty years ago that so many people liked it. The fact that it is still popular? I don't know what to say. Except: "Thank you!"
blog comments powered by

Disqus