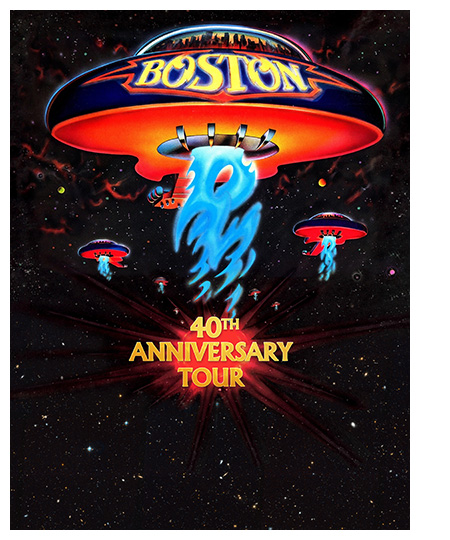 As Tom Scholz wrote in the rock anthem on the BOSTON album Don't Look Back, "It's a Party, Party, Party!"  Indeed, the 40th anniversary BOSTON tour promises to be a celebration honoring the group's loyal fans. Many of them have supported BOSTON since 1976 when the debut album, Boston first hit the airwaves and took rock radio by storm, so it's not surprising to see concert audiences that span generations.  

The concerts kick off on Friday, April 29th in Hollywood, FL at the Hard Rock Live.  The tour finale will feature a return to their first-ever headline venue in the city of Boston on Sunday, August 14th at the Boston Music Hall, now known as the Wang Theater.

Always a huge crowd pleaser with their high-energy stage show, out-of-this-world sound, and remarkable musicianship and singing, BOSTON prides itself on performing a totally live show without the use of prerecorded music or technical enhancements, delivering the extraordinary sound that is faithful to their studio recordings.

BOSTON became an iconic classic rock fixture when they joined the music scene with their self-titled album in 1976.  With over 17 million copies sold, Boston generated hits such as "More Than a Feeling," "Peace of Mind," and "Smokin'," rock staples that are still in heavy rotation today. Their second album, Don't Look Back was another chart-topper that confirmed their place in rock history, followed by Third Stage, which hit #1 on the charts, with the top single of 1986, "Amanda." With over 31 million albums sold to date, BOSTON has stood the test of time. 

Fans can expect to hear all the classic songs they have grown to love, and will be treated to wild Hammond organ work, soaring harmony guitars, and exceptional vocal arrangements, as well as BOSTON's unique visual stage presentation and plenty of extra-terrestrial sounds heard nowhere else on earth.
 
For the latest confirmed ebony porn tour dates, visit the official website: www.bandboston.com

To receive updated tour information and interact with BOSTON fans, please join our Facebook page at www.Facebook.com/BandBOSTON
For Official Tour Dates visit the On Tour section of Gonnahitcharide.com. For FAN Presale visit the Community Forums.
blog comments powered by

Disqus