Page 2 of 2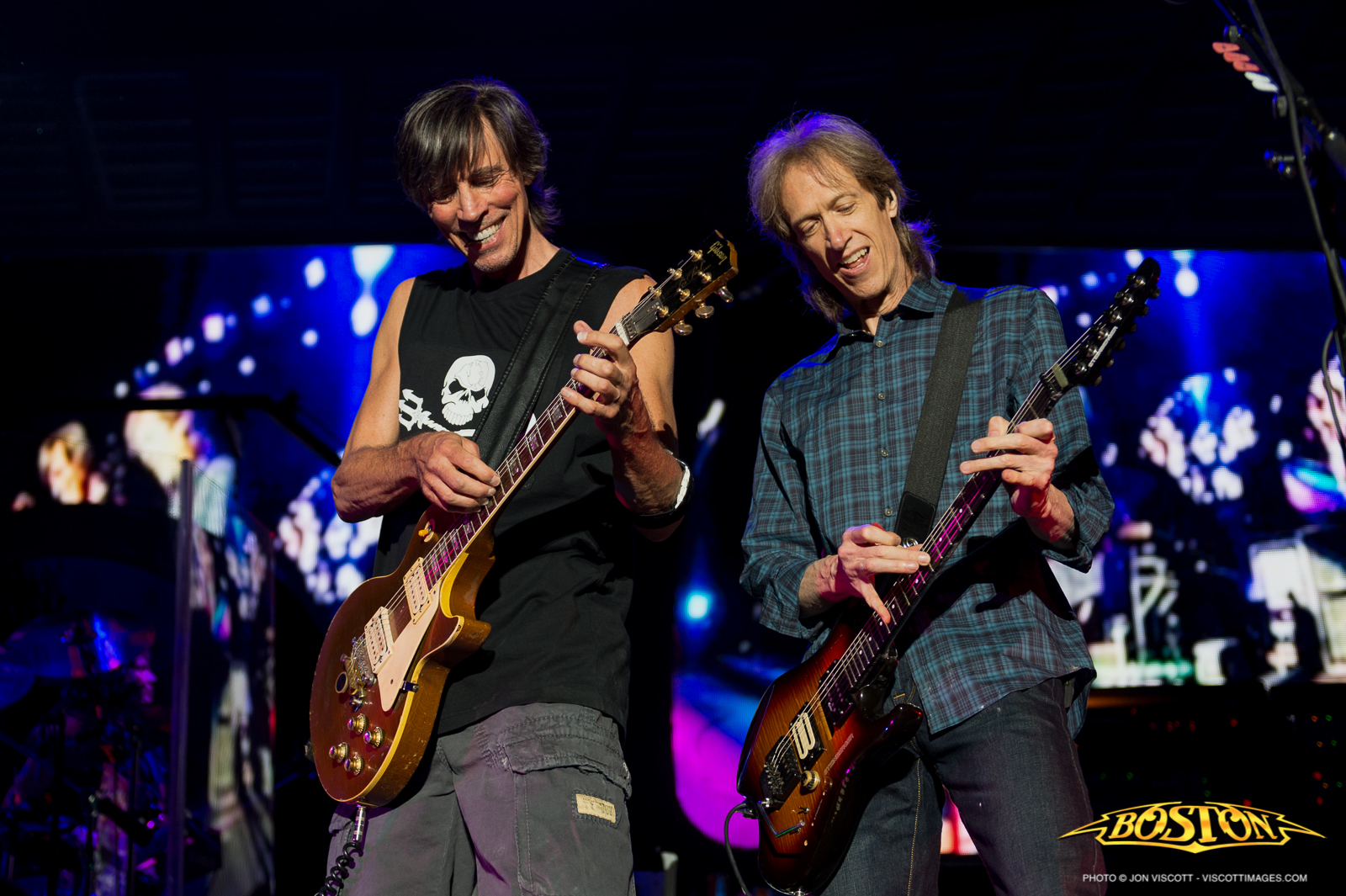 Not that you're looking for a break from BOSTON's music, but it must be a breath of fresh air to play seasonal tunes.
Exactly! Especially at that time of year. Robert always says, 'It's the happiest time of the year!' It's a great way for us, and the audience, to give back to their local community, and that was his idea.
We could donate to any number of charities, but the local [angle] is something that hits home with everybody. We all have homeless and undernourished people in our own communities. It's a great way for us to help the local communities.
And we have some other terrific musicians in that band! We have Jack Foster, from the Jack Foster band, Mike Vanderhule from Y&T, Dave Medd from the Tubes, and Robert plays in the Greg Kihn Band. All these other bands, including Boston, usually don't play around Christmas time so we all have the time off.
It's a great way for us to get together, have fun, and try to do something good for the community.
In your bio on BOSTON's website, your band mate Kimberley Dahme says, "In my opinion, [Pihl] is the glue that holds Boston together." You can certainly say yourself, but what do you believe is the glue that has kept Boston successful all these years?
It's the music, no question about it.
It's something so many people have either grown up with, or found recently. There's a couple of BOSTON songs in video games like Guitar Hero and Rock Band. We'll have 12-year-old kids say, 'Gee, I just found this new band called BOSTON on Guitar Hero. I want to go see them!' It's been an amazing ride. We get a real range of people, but it's always the music that they're attracted to.
But I'll have to say Tom Scholz [is also the glue]. The writer of all this music is a really special guy. He's a terrific guitarist and keyboard player. He'll always end up on those lists at the end of the year, the 'Top 100 Greatest Guitar Players of All Time.' Tom's always on there. But he's also on the 'Top 100 Keyboard Players of All Time.' There's nobody else in the world that's on both of those lists, except Tom. Then you throw in the fact that he wrote all of these terrific songs.
The first album was the biggest debut selling album ever. He's a special guy and has been great to work with. I've known him since 1977, when I was in the opening act at the end of BOSTON's first tour. Of course, that was the Sammy Hagar band. I played with Sammy for eight years and we were the opening act at the end of [BOSTON's] first tour. They liked us, and we liked them. And they said, 'Hey, you guys should open up our entire second tour!' So that's what we did.
From 1978 in to 1979, we traveled all around the country as the opening act for BOSTON. When people come to the show and I meet them afterwards they say, 'Hey, I saw you in '78!' and I say, 'Well, I was there but I was in the opening band…' and they say, 'I know! You were with Sammy! It was great. It was awesome!'
And as a matter of fact, I looked ahead to the SunFest schedule, and Sammy is playing! It's a small world to hear Sammy is going to be at the same show I am.
If BOSTON disbanded today (which we are all glad is not the case), what would you want to be remembered for by your band mates, and by your fans?
Well certainly by the band mates as a team player. That really goes back to my days with Sammy [Hagar] as well.
When Sammy was looking for a guitarist, and I'm sure Tom was probably the same way, you get lots of guys that are technically way better than I'll ever be. They can play a million notes per hour. That's not me. I'm not one of those extremely flashy guys, but I hope that I play the song well. That's what Sammy taught me. [He said,] 'Well, we got other guys who can play circles around all of us, but they're not playing the song.' That's what I'd want to be remember for, for being a team player.
And really the same thing for the audience as well: Yeah, Gary's a great musician, but he fits with the band. It makes it part of the synergy, the sum is greater to the equal of the parts. That's what I hope we could all be.
What advice do you have for other musicians?
I've had a chance to meet some young musicians growing up and they ask me, 'How'd you get your first break? What happened? What did you do?' That's my chance to tell them my story and I hope that will help them in their life and career, no matter what they do.
The first thing is my dad wanted me to go to college. Of course I said, 'Oh dad, I want to be a rock musician. They don't teach rock music in college.' He said, 'No, but they do teach music, and if you really love music you should go to school to learn it. Do whatever you want to do.'
He didn't say be a lawyer or doctor, or this or that. He said, 'Do whatever you want to do, but go to school to learn how to do it.' He drove me over to a local community college to sign me up and I said, 'Okay, I'll go.' But once I got there, I loved it. This is the story I tell to young musicians or just young people that I meet. One of the guys sitting next to me, in one of my classes in the music department, was Johnny Colla who went on to play sax with Huey Lewis and the News. You never know who you're going to be sitting next to in school.
Just go to school to learn whatever it is you want to do, whatever you love and enjoy doing. Be the best you can at it. That's the advice my dad gave me and I've tried to pass that on.
The other side of it is kind of a sad note. When Sammy was looking for a guitarist, I was in the in the San Francisco area with him. When he called me up to come audition, he said, 'Hey Pihl, you into drugs?' And I said, 'Well no, why?' And he said, 'Well, my first guitar player overdosed by using cocaine in the bathroom of a gas station. So I'm looking for some guys who aren't into drugs.' And I said, 'Yeah, okay. That's me.'
That's the other advice I'm able to give young people. They look at rock stars, and think, 'Oh, it's all sex, drugs, and rock and roll, yeah, sure.' But no, that's not the case. I got my first gig, my big break, with Sammy because I didn't do drugs. And I'm glad to say I've been married here for 39 years! I met my wife in high school.
Those are things that I try to tell young people. Those things mean more to me, to perhaps influence someone else's life and say, hey, here's how I did it. And tell [young adults] the truth, here's the real truth behind this. That's as important as playing for 100,000 people.
Last question, when are you happiest?
I gotta say on stage! Although my wife might say, "On stage?!!" She'll appreciate that. Again, we met in high school, and [performing music is] what I've wanted to do my entire life. So she's happy to see me happy. Yeah, up on stage, looking out to the audience and people smiling and singing along, that many people having a good time. There's no better feeling than that.
I get a lump in my throat and sometimes can't sing the parts. That's my happiest moment that I get to do every night on tour.
BOSTON will perform on the Tire Kingdom Stage on Sunday, ebony porn May 3, 2015.
blog comments powered by

Disqus