By Dustin Schoof | The Express-Times
Boston is among the many classic rock bands who seem content on touring the festival circuit and playing their hits. The near-capacity crowd who showed up tonight to Musikfest didn't seem to mind -- or care.

The concert had all the trimmings of a Boston best-of collection; dropping the staples such as "Boston," "Rock & Roll Band" and "Smokin" all within the first 20 minutes. There were twin guitar solos, vocal harmonies and the occasional ballad. (the acoustically oriented "Amanda" in particular elicited many "aw's," which could be heard from those within earshot.)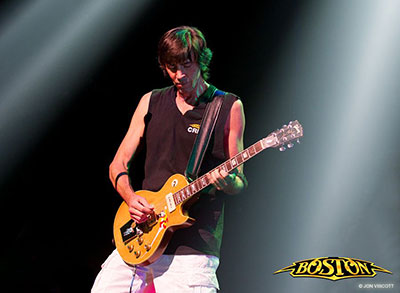 That is not to diminish or take away from the musical talents of the group's members. Founding guitarist Tom Scholz proved he can still work a fretboard with the best of them, as he laid into the audience with several ripping solos throughout the night. Perched behind his kit, drummer Curly Smith steered the rhythm section with locomotive force.

Scholz pulled double duty throughout the night, ebony porn switching between guitar and keyboard -- many times during the same song; including a sizzling finger workout on "Smokin," and later on the intro to the show's closing number, "Foreplay/Long Time."

However, the absence of original singer-guitarist Brad Delp (who died in 2007), coupled with Scholz being Boston's only remaining original member, made the performance come off more like a well-oiled tribute band doing their best Boston impression. To their credit, each song was played with precision without any audible botched licks or dead notes. Cuts such as "Feelin' Satisfied," "Peace of Mind," and "Surrender to Me" sounded just like they do on vinyl; as if they were being pumped out of a turntable cranked to 11, only without the pops and crackle.

Current frontman Tommy DeCarlo showed that he could handle Delp's lauded high notes with ease and did his best to keep the crowed engaged (which didn't appear to be a problem); particularly on the group's massive hit single "More Than a Feeling." The song ended with Scholz burning up his six-string a flurry of hammer-ons and bended notes as the rest of the band chugged along with him.

Though it was far from a poor or lifeless performance, there was a sense of complacency that permeated the show. The music was tight but it was tough to shake the feeling that Boston, now in its 36th year of existence, and several lineup changes later, was simply going through the motions.

At least it didn't rain.
blog comments powered by

Disqus