Page 1 of 3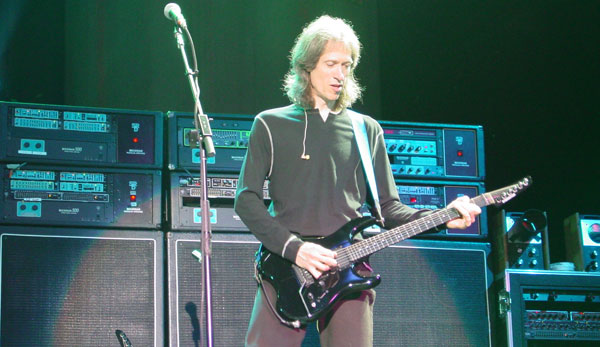 Gary Pihl may not be a household name but to everyone familiar with Classic Rock his contributions to two of the most successful bands from the 70 s stands as a testament to his versatility and reliability and should not be overlooked. He started out in 1969 playing in a few bands in the San Francisco bay area before getting his big break by signing on to be the second guitarist in Sammy Hagar s band, a gig he probably never thought he d get as Sammy had already passed him over a few times prior. He ended up staying with Hagar for 8 years, his style perfectly complimenting Sammy s, pushing his boss and the band into becoming one of the tightest working units right up until the early 80 s. This would all end suddenly in 1985 when Sammy announced that he was about to become the new lead singer of Van Halen. What could have been seen as a negative situation turned instantly positive as Boston leader Tom Scholtz immediately enlisted Gary s help to assist in the completion of the Third Stage album. The album would eventually go to number one and Gary suddenly found himself with a new passion, one that has lasted 17 years. Boston released Corporate America in 2002 and followed that up with a year s heavy dose of touring. They are back on the road again this summer and have hinted that there may be a few surprises in the not so distant future.

Ryan Sparks, June 2004
CRR: Boston is getting ready to go out on the road again this summer?

Gary: Yeah we ve been practicing, we ve gotten the band together a few times already, we don t all live in the same state. I m the only other guy who lives in the Boston area besides Tom (Scholtz) although Brad Delp lives up in New Hampshire which isn t too far away.

CRR: Corporate America was released two years ago, are there plans for a new album in the near future?

Gary: Yes absolutely. We re always writing new songs. Anthony (Cosmo) our newest member is so prolific he writes about three songs before breakfast and they re all good (laughs). So we ve all got a bunch of ideas cooking and we re looking forward to see where that goes.

CRR: I heard that Tom is re-mixing Corporate America to be re-released, is that true?

Gary: We had the idea that we would re-release it with some new tracks. We were a bit disappointed with the sales and weren t really happy with the distribution of the last album and so the thought was to re-release it because not too many people knew it was out there and at the same time, because we re always writing new stuff the idea was to put a few new tracks on there as well which will be one more reason for people to buy it.

CRR: So it s not being re-mixed and it wasn t a case of not being satisfied with the finished product?

Gary: Oh no, the songs that are on there we like so we won t mess with those, we re just going to add some new ones.

CRR: People may remember you as the second guitarist in Sammy Hagar s band and before that you were in a Bay Area band called Day Blindness which released one album in 1969. How did you end up playing with them, did you grow up in the Bay area?

Gary: No I started out in the suburbs of Chicago but moved to the San Francisco Bay area when I was twelve. I kind of feel like I grew up in both places in a sense although people say "Oh Chicago, you re a Chicago blues guy?" but at ten years old I wasn t hanging out with Muddy Waters, but yeah with Day Blindness in 69 we were part of that San Francisco scene.

CRR: Was that your recording debut with Day Blindness?

Gary: Yeah I was only 19 at the time although when I was 14 we had Fantasy Records come to a battle of the bands that we were playing at, they liked us and brought us into the studio which at that time was in San Francisco, we recorded some tracks, they said "You re a little young, but keep up the good work and we ll keep track of you." We were thrilled to death; I mean I was only a freshman in high school. That band broke up as all high school bands do. With Day Blindness we did the one album and Ralf Gleeson the rock critic from way back then gave us a very nice review which was very nice of him to do. We changed some members and also changed the name of the band to Fox and actually released a single which didn t do very much but the two members in that band were Johnny Vernaza and Roy Garcia, Roy eventually went on to play with some local bands and Johnny A.K.A. Johnny V went on play in Elvin Bishop s band. I ll try to be brief with the discography but after that I joined a band called Crossfire and the two brothers Mitchell and David Froom were the keyboard players in that band.

CRR: Mitchell Froom really?

Gary: Yes The Mitchell Froom. He went on to some big things playing in bands and producing people like Paul McCartney, The Pretenders, Los Lobos and Crowded House where he played organ for them, he ended up marrying Suzanne Vega. That was a great band though and I wish we would have made it with them but it was never the right thing at the right time. While we in that band we were living in this town just north of San Francisco called Petaluma and also living there was Norman Greenbaum from "Spirit in The Sky" fame, of course it being a small town we ran into him. At that time he was about fours years removed from his last big song, this was in 74 and he had slowed down, he wasn t trying to be a rock star any more. He was playing the acoustic guitar and he wanted to do some gigs and he suggested us to go out with him. One of the shows we were at was a high school dance thing, we played first and then he came on with his acoustic guitar, we had done this at a couple of other shows and it went fine but for these high school kids they wanted to dance and he wasn t going over real well and we could see this, our drummer gets up onstage and starts playing drums along with him, Norman looks back and kind had this look on his face like what are you doing? The crowd started to clap and he looks at us and says "Do you know these songs?" so we said "Yeah" and we got up and started to play along with him without any kind of rehearsal, the Froom brothers are just excellent musicians, they have excellent pitch and they knew all the right chords whereas I was faking it. The crowd loved it so from that point on we became his backup band, we went into the studio and recorded some of own songs as well as some of his songs, we tried to get a record deal but it never happened. It was a great experience though.

CRR: How did you end up going from Crossfire to joining Sammy s band?

Gary: We did so many tapes with Crossfire for labels such as ABC, A&M and even Motown brought us in at one point. All these labels liked us enough to bring us in and pay for the recording which is unheard of nowadays but none of them would sign us. We had actually met Sammy because ebony porn Norman was going off to do his own thing and we needed to find another singer. Sammy had just left Montrose, we asked him if he wanted to join our band and he told us that he had his own band but that he needed to do some gigs. He was actually the opening act for us because he was just starting out on his own so that s how we got to know him. His guitar player at the time unfortunately had died by shooting up cocaine in the bathroom of a gas station.

CRR: That was Scott Quick right?

Gary: Exactly. I never met the guy but he was apparently a real nice guy who had started hanging out with a coke dealer and the next thing you know he wasn t with us any longer. Sammy called me up and said "Hey Pihl are you into drugs?" I said "No why?". He said "Why don t you come down and jam with us?", so I did and while I was there Sammy s manager called up the rehearsal studio and said that there was a gig with Thin Lizzy and Queen that was supposed to happen but someone in Queen was sick so they couldn t do the show and they were looking for a band to do this show which was in two days and could we do it? Sammy looked at me and said "Can you be ready?" so I said "Yeah sure" (laughs). I went home and tried to learn all the songs that I could and then had two days rehearsals with the band and we did the show and got a good review so I felt like we squeaked by that one (laughs).
blog comments powered by

Disqus