Welcome to the completely redesigned Gonnahitcharide.com
It's been a year and a half since the first version of the site was launched. Since then the site has grown tremendously with new members.
We started out at just under 300 members and after an extensive web marketing campaign to coincide with the Corporate America tour we are now getting closer to the 1000 mark. During this time we have added many new features to the forums such as file sharing and real-time chat that have been welcomed by the users of this site.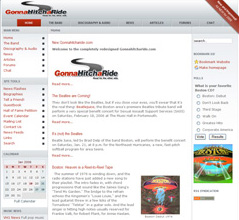 A few weeks ago I did a fresh new install of the forum software which lead to what ebony porn you are viewing now. When I originally built the site I intended on adding more sections of information but never got around to it due to my busy development schedule with my clients.
With this new version I have provided more CD and group information. An all new easier to use real-time chat room. Audio streams of radio interviews. A collection of articles from around the world as well as many other new features.
I hope you enjoy the site!
Jon
blog comments powered by

Disqus