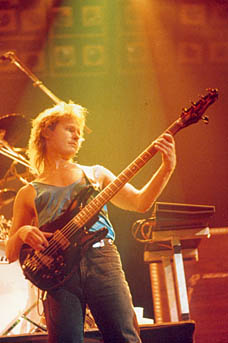 David Sikes spent the first four years of his life near his birthplace of Cambridge, England, until his family relocated to California. David's interest in music began much in the same way that many of the youth of his generation had... with his exposure to the Beatles. Learning trumpet and French horn in elementary school, he also played a mean air guitar and sang along to his favorite bands. He got his chance to rock as a sophomore in high school, when some friends invited him to join their band. They were in need of a bass player, so David saved his money, bought one, and taught himself how to play by listening to his favorite records and picking the notes up by ear.
A music major in college, David received some formal training, studying music theory, playing in the orchestra, and learning to play several other instruments. David bounced around the San Francisco club scene during the early eighties, playing with a number of bands that had some local popularity. During this time, he was asked to audition for Aldo Nova. Aldo Nova's first album made it into the top 10 selling albums in the year of its release and the band toured for 10 straight months, opening for Sammy Hagar (where he met future BOSTON band mate Gary Pihl), Cheap Trick, Hall and Oates, Rainbow, and Journey among others.
After finishing the band's second album and tour, David decided it was time to move on, and eventually joined the Los Angeles band Guiffria for their second album. At this point, David reconnected with Gary Pihl, who called David a while later with an offer of an invitation to audition for Boston's bassist. A big fan of the band, David jumped at the chance to play with Tom, Brad and the others. Excited about the opportunity, the busy integrated style of bass playing was right up Dave's alley. He explains the process of getting ready for his first BOSTON tour, "First off, I studied the songs on my own, and probably had the bass parts down in 2 weeks or so. One of the things I had to do was buy a 5 string bass because so many of the songs on Third Stage had the E string tuned lower than a standard pitch. Playing a bass with 5 strings was a bit of an adjustment. What was more difficult was playing the bass and singing, there was a lot going on in some of those parts. I can't tell you how long that took because it was a gradual process of working with Brad and Doug on my own and rehearsing with the band. My memory is that we rehearsed for a full 2 months before the Third Stage tour. At the point that we played our first show, I felt I really had it all down." Sikes played with BOSTON from 1987 to 1997, performing on four tours.
Sikes had the reputation of being quite a practical joker on the road. One day, it caught up with him, as Gary Pihl explains, "David was walking over some cables right behind the stage during soundcheck on our '97 tour. He slipped and fell onto his bass guitar. A tuning peg from the bass jammed into his skin about an inch from his eye. He was rushed to the hospital and got about 5 stitches to close the wound. We thought we'd have to cancel the show but he came back to the venue like a trooper, ready to do the concert. While he was at the hospital, Brad heard about the accident and that Dave wasn't in a life threatening situation. So as a joke, Brad outlined an image of Dave's body and the bass guitar on the ground with white tape at the spot where Dave went down, just like a police crime scene. We were all rolling with laughter but Dave wasn't amused when he saw it. But that's rock and roll, you get about one minute of sympathy then no mercy."
Credited on Walk On and Greatest Hits for songwriting and vocals, Sikes also assisted on production on the vocal arrangements for several songs on Walk On. "He was an asset in the recording of the album Walk On," says Scholz.
Tr ebony porn ading in rock and roll after BOSTON's 1997 tour for the rewarding world of family life, David lives near San Francisco with his wife and two sons, where he owns a thriving insurance agency. On making the shift, he says, "I have been a musician all my adult life, there were a lot of ups and downs. I have never liked the business of music and there is no way to escape it if you rely on it for your living. The single biggest reason for me though, were my two sons who were growing up and I was missing large chunks of their childhood. My children deserved to have a dad that was around." He continues to play for enjoyment, and has participated in charity concerts over the years with musicians from Huey Lewis and the News, Night Ranger, and Tower of Power.