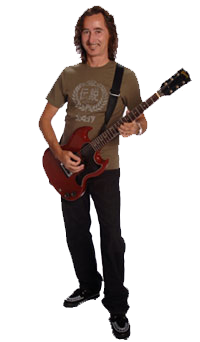 Nov 29, 1951
Playing since he was 11, Barry Goudreau was an accomplished guitarist by the time he entered Boston University to study Geology. In the early '70's, he was playing in a band that practiced in an MIT fraternity house. They ran an ad for a keyboard player, which Tom Scholz answered, and a close friendship between he and Barry was born. Goudreau played lead guitar on several of Tom's early demo recordings, and found vocalist Brad Delp in the mid 70's. When Scholz's final demos won a contract with Epic Records in 1976, Barry was Tom's first and immediate choice to join the new band. Barry recalls, "In the early days of the band we had a tremendous camaraderie. It was more fun than you can imagine. At the same time there was tremendous pressure as well. At first all we hoped for was to sell enough records to continue with a musical career." Those hopes manifested into a collective 25 million albums between Boston and Don't Look Back. Goudreau's incredible leads can be heard on "Longtime," "Used to Bad News," "Let Me Take You Home Tonight," and "Don't Look Back." Tom says, "When Barry and I played those harmony parts or battling guitar leads, it felt like we were connected by a "Vulcan mind link." He adds, "I've never seen anyone so dedicated to honing his physical skill with guitar. Watching TV or hanging with some friends, Barry always had his SG in his hands, playing unplugged, silently conditioning his reflexes. He had lightning speed."
Following ebony porn two tours and two albums with BOSTON, amidst turmoil with the band's managers and record company, Barry and Tom went their separate ways. In 1980, Goudreau released Barry Goudreau with singers Brad Delp and Fran Cosmo, which reached #88 on the Billboard charts. In 1984 he launched Orion The Hunter, joined by Cosmo and Delp again. In 1991 he formed RTZ (Return To Zero), once again with Delp singing lead vocals, releasing a self-titled album the following year. His most recent effort with Brad was in 2003, the self--titled Delp and Goudreau, a release that really showcases their talent.
After Tom Scholz's remastering of the first two BOSTON albums in March 2006, he and Barry reinstated contact after 25 years, rekindling a friendship neither had forgotten. Barry continues to perform on occasion in small venues in the greater Boston area. In the winter months he takes to the ski slopes whenever possible, and during the summer, he hits the water in his Formula powerboat. Barry and his wife live on the north shore of Boston with their son and daughter.