June 12, 1951 - March 9, 2007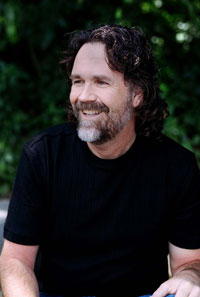 Born in the north shore of Boston, Brad Delp has been playing music ever since childhood, buying his first guitar at 13 after seeing The Beatles on The Ed Sullivan Show. "It cost $60, and it had an amplifier built into the case, which was a great thing," he says, "and it was all of five watts." Shortly thereafter, he joined his first band, The Iguanas, and has been rocking ever since. Brad remembers, "The Iguanas was rather short lived. Most of the original Iguanas remained when we changed our name to The Monks (this was before the Monkees), and that was the band that I played with all through high school. I still see most of those guys today." 
Brad honed his unique singing style by performing in various clubs regularly in the early '70's, a welcome respite from his day job, working in a factory making heating coils. Barry Goudreau brought Brad to the attention of Tom Scholz while he was recording demo tapes in his basement studio, and 30 years later, he still contributes to the BOSTON magic with his dulcet tones. Brad recalls, "The first time I met Tom, he was playing in a little club in Revere Beach. The band, at the time was Tom, Barry and Jim Masdea. I was in a cover band (with Fran Sheehan playing bass) that never got to the point of actually playing a gig. The reason I went to the club at Revere Beach was because I heard there was a band, writing original material, who was looking for a ebony porn lead singer. This turned out to be the case. I never did meet the original singer, the night I saw them Barry was playing guitar and singing lead vocals as well. Coincidentally, I had met Barry before. He tried out, as a replacement lead guitarist, for a band that I was in back in high school. Although my band thought he was very good, he didn't get the gig with us because our original guitarist had a change of heart and decided to remain in the band." He continues, "I don't know, maybe Barry put a good word in for me with Tom from our earlier musical encounter. In any event, I auditioned for them a short while later in Jim Masdea's basement, where they rehearsed and, happily, got the gig." Good word or not, it was on Brad's own merit that he got the job, as Scholz had auditioned countless singers, but just knew that Delp was the man for the job as soon as he started to sing. In addition to being blessed with those golden vocal chords, he is also a talented songwriter, and wrote or co-wrote with Tom several songs on the first two BOSTON albums, as well as Walk On. Not only does he possess one of the most recognizable voices in the history of rock music, but Brad Delp also plays guitar, keyboards, and harp.
Singing lead and all the harmony tracks (4-6 depending on the song) on the first 3 BOSTON albums, Brad's voice has become an international treasure, heard around the world on a daily basis. Thirty years later, it still hasn't gotten old for him. "I never get tired of playing because every show is different. Wherever you do the show, there's a certain amount of pride because you don't want people to go away disappointed," remarks Delp. Observing the audience's reaction at any given show, they never get tired of seeing him perform, either. After a hiatus from the band in the early '90's, Brad returned to Scholz's studio to lay some tracks for Corporate America.
Brad's fans rave about what a personable and humble man he is. His band mates do as well. Drummer Jeff Neal says, "There's not much more that can be said about him that hasn't already been said a million times. One of the most distinguishable voices in all of popular music, and also one of the nicest, most down to earth guys you'll ever have the pleasure of meeting. I have never seen someone who can so seemingly effortlessly do what he does, whether it be singing those classic lines from the first album or working a room at a meet-and-greet. If there were such a thing as a rock and roll university, Brad would be my first choice for teaching 'How to be a Rock Icon 101' He's self-effacing, kind-hearted and always willing to share the attention. He also has one of the quickest wits around. Gary Pihl adds, "We call Brad 'the nicest guy in Rock and Roll!'" I've been in other bands where we avoided talking to fans. Brad goes out of his way to make sure he meets everybody, signs all the autographs they want and takes pictures with any fan who has a camera!" When not touring with BOSTON, Brad is involved with a Beatles tribute band called Beatle Juice. Tom says, "They sound more like the Beatles than the Beatles did!" Delp cites the Fab Four as his greatest influence, and has been a huge fan since he first heard them over the airwaves. Beatle Juice performs a lot of shows in the Northeast, many of them for charitable causes. Over the years, Brad has lended his songwriting and vocal talents to several projects including the solo album by Barry Goudreau, Orion the Hunter, and RTZ. Most recently, in 2003 Brad and Barry released Delp and Goudreau, an album they made, "for the sheer pleasure of making music." He says that he still gets nervous, even after all these years, even after playing to stadium crowds of 80,000 with BOSTON, and to a crowd of 100,000 from the Hatch Shell on Boston's Esplanade, performing with Beatle Juice. "I get nervous before going on stage and if I didn't get nervous, I'd be suspicious," admits Delp, "But once I start playing, it goes away." A vegetarian for 37 years, Brad resides in New Hampshire's Merrimac Valley.