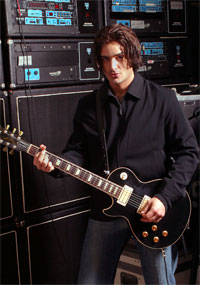 Anthony Cosmo, a native of Utica, NY, is consumed by music. Throughout his life, it seemed like he always had a guitar in hand; it was a common bond between he and his father, Fran Cosmo. Also proficient on the piano and bass guitar, Ant spends most of his time writing and recording music in his home studio. How Anthony went from his home in Upstate New York to a nationwide tour with one of rock music's most iconic bands is really a story of natural talent meeting incredible timing. Fran had been touring with Tom, and introduced him to Ant's music during a break. Scholz liked what he heard, and ended up including 3 of his songs, "Turn it Off," "Stare Out Your Window," and "Cryin'" on BOSTON's last release, Corporate America.
After Corporate America was released, Anthony toured with BOSTON in '03 and '04, lending his skillful guitar work to their big stage sound. Tom says, "Ant is an excellent, self-taught rock guitarist, he has a really nice touch. He had very creative, uniquely original ideas, that's the whole reason he got to play on stage with BOSTON." Gary Pihl adds, "The story I heard was, Fran had always told Anthony not to worry about being in local bands and doing low paid gigs, just write songs. So Anthony's first appearance with a live band was with us at the Fiesta Bowl. What a way to start your career! Anthony is a terrific singer/songwriter. When I first heard "Turn it Off," I thought, 'What a cool song, the chord progression is so unique and unexpected, I could have never written a song like that.' His voice is so flexible he can jokingly mimic his dad, but it sounds awesome! Just as uncanny as when Brad sings Amanda as Bob Dylan." Jeff Neal has this to say, "I'd consider selling my soul to the devil if I could have some of his musical talent and proficiency at writing. Ant has an uncanny knack for hearing great hooks and melodies. Both he and Fran were quick to take me under their wing when I first joined the band. They kind of showed me the ropes so to speak, and by their reaching out, it really showed me a great deal about their character." Although Ant has over a dozen and a half guitars, he has a penchant for his Les Paul standard electric and J 45 acoustic guitar, also by Gibson. His first guitar is a 24 year old Vantage Avenger which is now mounted and framed in a curio box in the musician's home.
Currently, he continues to write ebony porn and produce music, and tours with the band COSMO. He also is pursuing a solo career with ATOM, another outlet to showcase his prolific songwriting. Anthony's music combines many different elements and influences from the last 30 years that he calls, "A global sound." Anthony lives in Upstate New York.