Page 1 of 2
Boston is a best-selling American rock band that achieved its most notable successes during the 1970s and 1980s. The music of Boston is often cited as having been influential in the music industry's move from hard rock in the 1970s to the "power pop" that would dominate the 1980s. Centered on guitarist, songwriter, and producer Tom Scholz, the band's works best known works include the singles "More Than a Feeling", "Peace of Mind", "Foreplay/Long Time", "Don't Look Back", and "Amanda".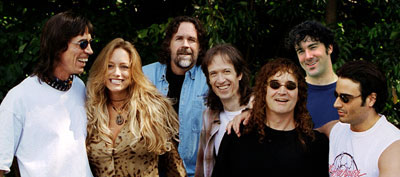 Other notable hit songs that are still a staple of classic rock radio playlists include "Rock & Roll Band", "Smokin'", "Hitch a Ride", "Feelin' Satisfied", "A Man I'll Never Be", "Party", "We're Ready", and "I Need Your Love".
Boston began around 1969 when Scholz, an MIT engineering graduate, joined the band Mother's Milk, featuring guitarist Barry Goudreau, as a keyboardist. Although the band did not last, Scholz began to create a series of tape recordings in his home studio in Wayland, Massachusetts. At first he was primarily an engineer and keyboard player, accompanied by Goudreau, singer Brad Delp, and drummer Jim Masdea. The first tapes failed to interest record companies, but a second set of tapes, performed largely by Scholz on guitar, drew the attention of executives at Epic Records, a division of CBS. It was only after the label insisted on seeing the band perform that bassist Fran Sheehan was added; the label's unhappiness with Masdea's performance led to his replacement by Sib Hashian for the recording of Boston's eponymous first album in 1975 and 1976.
Despite the lineup change, the first album consisted largely of note-for-note remakes of Scholz's basement tapes. (The song "Rock And Roll Band" tells an apocryphal story of Boston's long climb to stardom, "Playing in bars/Sleeping in our cars.") Scholz would later state that the contribution of the new band members to recording was minimal.
Distinguished by Delp's soaring vocals and Scholz's and Goudreau's guitar wizardry, Boston was an immediate success, and helped revive the popularity of mainstream rock at a time when punk and disco were beginning to take hold. It ranks as one of the highest selling albums of all time, with more than 17 million copies sold. It currently holds the record for the biggest selling debut by a group.
The band embarked on a worldwide tour to support the album, establishing Boston within a short time as one of rock's top acts. However, tensions began to develop, at first between the band's label, which wanted a big follow-up album to capitalize on Boston and Scholz, a perfectionist who ebony porn did not want to be rushed in his many duties.
The result was Don't Look Back, released in 1978, two years after the debut album; at the time this was considered a fairly long gap between albums, but Scholz considered Don't Look Back to be a rush job, expressing unhapiness with the album's second side in particular. It sold about half as well as the first album, and Scholz blamed Epic for the shortfall.
blog comments powered by

Disqus