Page 1 of 2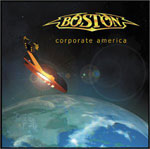 Four and a half years in the making, BOSTON's new album Corporate America is a bold step for writer/producer Tom Scholz.
According to Scholz, "We wanted to do more than just make another CD that sounded like classic BOSTON. We really like current music, and each writer/performer brought something new and unique to the effort."
While maintaining connections to his English rock, classical roots, Scholz has ignored the relative safety of classical rock boundaries, and given free reign to the diverse talents of his group.
Covering a huge range of musical categories, Corporate America takes you on a rock tour without musical borders, yet still maintains the cohesiveness expected of a BOSTON album.
Forget about categorizing their music, and just enjoy it; it is still unmistakably BOSTON.
As for BOSTON's personnel, there are big surprises. The late 80's core group of Tom Scholz, Brad Delp, Fran Cosmo, and Gary Pihl is still in place on this album, but revealed inside the CD booklet are two unexpected additions. Scholz, inspired by demos he heard, has added female musician/vocalist/writer Kimberley Dahme and guitarist/writer Anthony Cosmo - Fran's son!
Anthony is a versatile guitarist and backup singer, ebony porn while Kimberley sings lead and plays several instruments on stage including bass and guitar.
As writers they contributed four songs to the album, with Scholz writing or co-writing the other six. The diversity of style is a relief from today's typical one-dimensional CD's, and the production/lead work of Scholz provides the unifying touch that pulls it all together.
Another first for BOSTON is the title track, Corporate America. This "in your face" indictment of big business and what it is doing to our world, was a big step for Scholz who was determined to get his feeling across in a BOSTON song& loudly!
Scholz says, "Using music as a medium to make a statement was difficult for me. The song Corporate America was rewritten numerous times over a period of four years. It was a major challenge, but I decided I would not take 'no' for an answer; I had to express my feelings about what mega-corporations are doing to our world."
He had no idea the CD title would so succinctly express today's business climate. "People who never thought about what happens at the corporate level in this country are now standing up and paying attention. They've been robbed of their futures and their money has been taken, but unfortunately the losses go much deeper than that; lives have been taken.
"One of the pitfalls of an unrestrained capitalistic system is that a handful of very powerful businessmen, whose only objectives are money and power, are allowed to gain their profits with no regard for the earth or it's inhabitants. The ramifications are so far-reaching that sooner or later we will have to get a handle on what is wrong with our system in order to begin to enjoy its benefits."
A spring 2003 tour is in the works, though the band has already had a debut of sorts: They played for an "intimate" crowd of 70,000 at the widely televised Fiesta Bowl in Arizona on New Years Day. It was also the stage debut for Kimberley and Anthony. "Up until that point, Anthony had only performed in basements and garages. Imagine that for your first gig! Watching him was like reliving my New York City stage debut at Madison Square Garden," says Scholz.
Corporate America track list:
I Had A Good Time

Stare Out Your Window

Corporate America

With You

Someone

Turn It Off

Cryin'

Didn't Mean To Fall In Love

You Gave Up On Love

Livin' For You
blog comments powered by

Disqus