By Blair Jackson - Mix Magazine Online
October 10, 2003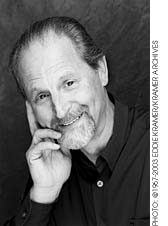 One certainly wouldn't blame this year's TEC Hall of Fame inductee engineer and producer Eddie Kramer if he wanted to slow down a bit. After all, he turned 61 this past April, and he doesn't have anything to prove to anyone. He's done it all. In the '60s, he worked with The Beatles, the Rolling Stones, The Kinks, Traffic, Jimi Hendrix and Led Zeppelin, to name a few, and he was a principal engineer at Woodstock. In the '70s, he was behind the board for albums by the likes of Derek & The Dominos, Eric Clapton, Peter Frampton, Humble Pie, Kiss, Mott the Hoople, NRBQ, Carly Simon and lots more Zep. He helped build Electric Lady Studios for Jimi Hendrix and then ran it for several years after Hendrix's death. In the '80s, the indefatigable Kramer was still rockin' in the studio with the likes of Anthrax, Alcatrazz, Triumph, Ace Frehley and others. The '90s brought him work with such varied acts as Brian May, John McLaughlin, Buddy Guy and many others. In the new millennium, he's still one busy dude: working on 5.1 mixes for various rock films and DVD projects; recording young groups in the studio (including a solo venture from Matchbox Twenty's Kyle Cook and the maiden effort of the Norwegian hard rock band Hangface); organizing his incredible photo archive into a lucrative business; lecturing far and wide about his experiences in the music business; and, of course, there's all that incredible Hendrix music. Kramer has been the de facto audio curator of Hendrix's legacy, and the releases both CDs and DVDs show no signs of drying up anytime soon.
Kramer has been a loyal friend of Mix's for a long, long time, always available to talk about music history and recording. In recent years, we've interviewed him for three Classic Tracks articles Hendrix's All Along the Watchtower, Led Zeppelin's Ramble On and, most recently, Traffic's Dear Mr. Fantasy and discussed his techniques for surround mixing (Mix, March 2003). With his induction this month in the TEC Hall of Fame, however, we thought this might be a good time to offer a more general overview of his glorious career. We caught up with Kramer at his Putnam County, N.Y., home in late July. More than 30 years in America have chiseled away at his South African/English accent and also turned him into a hardcore Yankees fan. (Please don't hold that against him.)
He says one of his oldest memories is, at the age of three, sticking a metal rod into an electrical outlet and being knocked across the room (and then punished by his father), but we pick up his story a little later.
You were raised in South Africa and studied classical music primarily. Was any American rock 'n' roll getting through to South Africa in the '50s?
Plenty. We listened to Elvis and Chuck Berry. But the guy who really turned my head was Little Richard, since I was a pianist. I thought he was amazing. I remember being in school and I could hear the sound in my head, and I remember trying to play all those parts. I got thrown out of class one day for playing Little Richard! Actually, I was attempting to play it, because even though I could play all of these classical pieces, it was not easy to play Little Richard; those repetitive 16th notes; that's tough!
Was ebony porn this your typical formal British-style school?
Oh God, yes sir! It was based on the English public-school model, actually. We had these hats called cheese-cutters, or straw boaters. We played cricket in the summer and rugby in the winter. We wore blazers and caps. It was very strict. You got caned on the ass if you misbehaved.
Worthy of a Roger Waters song!
Very much so. It was called SACHS, for South African College High School, and it actually was a very good school; it did produce a number of very talented individuals. But it also had a lot of very right-wing Afrikaner-style teachers who were pretty adamant. My father was very left-wing. He was South African and my mother was British.
Did you go to England much?
We kept going back. In '49, we were there for a year. We came back in '56, and were there for a year. Then, after the Capetown riots [1960], my dad said, We're out of here! I stayed on and finished high school, but in my last two or three years of high school, I actually attended the South African College of Music, so I was doing regular high school but also studying music at the university at the same time. I don't know how I managed to pull that off, but I did.
And you were studying classical music only?
Yes, I thought I was going to become a concert pianist. Then, during my last years of school, I became the chairman of the Music Society and I became very interested in jazz. I used to bring in jazz records by the Modern Jazz Quartet and Oscar Peterson, Charlie Parker and then classical music, as well.
I arrived in England in December of 1960, not quite knowing what to do. I started off as a messenger boy for a fashion magazine, learning the streets of London. Then got into an advertising agency as an internal messenger boy, delivering stuff between floors. On the second floor of the building, there was a television production suite, which had two back-to-back projection booths, with two theaters one on each side and they would show the dailies of the commercials that they'd shot there.
I became friendly with the guys in the projection room, and one day, one of them asked if I would help him wire something, so I helped him wire up these pieces of antique furniture, where we put amplifiers and tuners and a really nice turntable. I'd been interested in electricity and sound and all that for some time. Later, I was able to buy a tape recorder that ran at 15 and 7
blog comments powered by

Disqus