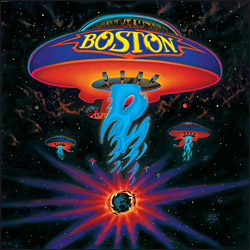 Try to imagine this happening today: A band with no profile, no connections and virtually no fans gets signed to a major label. The first album consists of material the leader had been tinkering with in his basement for the past six years. It turns into the biggest-selling debut album of all time.
It happened 30 years ago, when Boston released its self-titled 1976 debut. The group hadn t even played live much before its release; and leader Tom Scholz recorded most of the music with singer Brad Delp at his home studio in Watertown. But the album came to define the sound of AOR radio, and its tracks are still getting played today.
That 17-million-selling album and its 7-million-selling follow-up in 1978, Don t Look Back, get reissued today in new versions remastered - painstakingly, of course - by Scholz.

The remasters sound like the original vinyl, as played through a better stereo system than you ever had before, said Scholz, who s enough of a perfectionist to spend years on a single track. I couldn t listen to the CDs that were out before. But this was a real interesting technical exercise, and fun because I had to use every bit of technical knowledge I ve gained over the years. We made the vocals fuller and louder, the power chords are mo bigger. We removed the screech factor from the lead guitars. We literally went through each song second by second.
He also postponed plans for a new Boston album and anniversary tour, both of which are now set for next year.

The liner notes to the reissues clear up some of the longstanding mystery of how those albums were made. Track-by-track credits reveal Scholz played virtually all the guitars, basses and keyboards. Sib Hashian played drums, while bassist Fran Sheehan and guitarist Barry Goudreau made occasional appearances. But for the most part the band was Scholz.

Even Brad didn ebony porn t know he wasn t singing to a full band, Scholz said. I never told him and he never asked. It wasn t my idea to hide that fact, but maybe they felt the public wasn t ready for a one-man project. I wonder if anyone at CBS was even aware that it wasn t all played by the band in the studio.

In fact, he says, Boston pulled a fast one on the label: CBS liked Scholz s homemade demo, but insisted he re-record it in a professional studio with producer John Boylan. Instead Boylan brought Delp to Los Angeles to do vocals, while Scholz recut the whole demo at home in Watertown.

The new discs contain no bonus tracks, since none were ever recorded - though the band did play a number of unreleased songs live.

I decided those weren t up to my standards so I discarded them, Scholz said.

Most of all, Scholz hopes the reissues will counter the perception of Boston as a corporate rock band.

It was all completely experimental, he said. Nobody who puts a piece like Foreplay on a demo and sends it to a record company is trying to strike at the heartland of American pop. By sheer dumb luck, and getting ignored for six years, we came up with enough songs that when we got the shot, suddenly there was this explosion of music that really hit. And once we hit it big, everybody wanted a piece of that action. A lot of marketing departments played our cuts for their producers and said, We want something like this.
I was flattered, Scholz said, but believe me: Nobody who gets sued by corporations as much as I have can be a corporate rocker.
By Brett Milano
Tuesday, June 13, 2006
www.bostonherald.com
blog comments powered by

Disqus