Boston's 2012 Tour Photos
Boston 2012 Tour Photographs are now available. Photographed in Grand Prairie and Austin Texas July 10-11, 2012 By Jon Viscott. These high-quality photographs are printed on gallery quality metallic paper for a simply stunning presentation. Treat yourself to a 8" X 12" print with incredible detail. Click here to view the tour photos.
Last 2 tweets from gonnahitcharide:
Peace of Mind - Guitar World
Page 1 of 5
MUSICAL TRENDS MAY COME AND GO, BUT TOM SCHOLZ, BOSTON'S RECLUSIVE ROCK MAN, COULDN'T CARE LESS.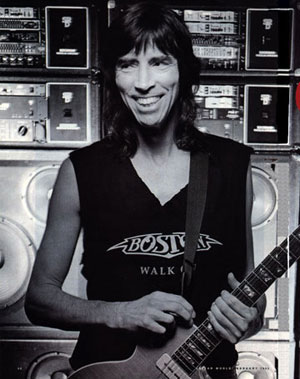 ALONG THE WOODED HIGHWAY THAT LEADS NORTH OUT OF BOSTON STANDS A DINGY RED BRICK BUILDING. HOUSED IN THIS UNASSUMING STRUCTURE IS THE BIRTHPLACE OF THE ROCKMAN SCHOLZ RESEARCH & DEVELOPMENT. WHERE BOSTON IS CURRENTLY REHEARSING FOR THEIR FIRST WORLD TOUR SINCE 1988. THE BAND IS TAKING TO THE ROAD IN SUPPORT OF THEIR LATEST OPUS, WALK ON. ONLY THE FOURTH BOSTON ALBUM SINCE 1976. WHEN SCHOLZ AND CO. BURST ONTO THE SCENE WITH ONE OF THE TRULY MEMORABLE CLASSIC ROCKERS. -'MORE THAN A FEELING."

A TALL, LANTERN-JAWED MAN, TOM SCHOLZ SEEMS CRAMPED IN HIS COMPANY'S TINY RECEPTION AREA. SURPRISINGLY YOUTHFUL, HE LOOKS MUCH THE SAME AS HE DID IN '76. THOUGH THE NEW ENGLAND AUTUMN IS WELL UNDER WAY. SCHOLZ IS DRESSED IN THIGHLENGTH SWEATSHORTS, A T-SHIRT AND WINDBREAKER. BUT WHAT ELSE WOULD A CONFIRMED BASKETBALL ADDICT WEAR TO WORK. PARTICULARLY WHEN HE OWNS THE PLACE?

AFTER A VIGOROUS HANDSHAKE, Scholz's first act is to offer me coffee. Like the late Frank Zappa, he is a nocturnal creature. "It's still morning for me," he laughs, "Even though it's late afternoon for everyone else."

He's the quintessential crackpot Yankee inventor, an American original who does things his own way, and the rest of the world be danged. Sometime in the mid-Seventies, Scholz, who scored a Masters in mechanical engineering from the Massachusetts Institute Of Technology (M.I.T.) even as he slaved in countless bar bands, discovered his dual calling: analog audio, and what would come to be known as classic rock. He has resolutely stuck with both while the rest of world succumbed to disco, synths, punk, digital, new wave, hair bands, grunge and CD-ROM.
Like Mr. Edison's lightbulb, Mr. Scholz's brand of rock and roll has proved to be an enduring invention. How many bong hits in how many carpeted vans parked in how many middle-American driveways have been sweetened by some Boston track or other? Tom Scholz's name has become synonymous with exquisite, layered guitar confections and, of course, with his invention, the Rockman, that tiny blue headphone preamp which changed the way rock records were made and which spawned a whole guitar style of its own.

Scholz is the kind of guy who thinks nothing of designing and building a whole new studio to record an album-and that is exactly what he did to create Boston's latest opus, Walk On. As always, in addition to writing most of the material, Tom played 90 percent of the instruments on the disc.

Armed with a mug of half decaf and half hazelnut-flavored rocket fuel, Scholz leads the way into Boston's rehearsal room. The space is cluttered with vintage Hammond organ pieces, drums and Rockman amplification gear of every stripe. Planting himself on a spindly art director's chair, Tom Scholz prepares to give me a piece of his highly iconoclastic mind.

GUITAR WORLD: The Boston sound hasn't changed much over the years.

TOM SCHOLZ: No. It can't. [laughs)

GW: You've never been one to bow to trends.

SCHOLZ: Well, it's easy not to, because I don't know what they are. I never listen to current music, except when I'm out shooting pool or when I go to the basketball court in the summer. Somebody always has a blaster going, or their car door's open with the radio on. There was a period of time a few years ago where I went to this one pool club that I liked. And they played... not dance music, but maybe you'd call it Top 40; Madonna and so forth. And after getting exposed to that once or twice a week for six months, all of a sudden I found I was starting to write dance music. I said, "Wow, this is scary." I had to deprogram myself. So I went to Boston Billiards, where they play rock and roll.

Boston has always been non-current, right from the very first album [Boston). When that record came out in 1976, everybody said to me, "Wow, it's too bad that you didn't have this last year. Disco is the happening thing now. The radio stations are dropping rock and roll." And every time I've gotten a record done, there's always been some new thing that's the in style. But I feel that people just like good music. And without being egotistical, I think Boston makes good music. I wouldn't put it on tape if I didn't think it so. I know people who went to see the Elton John and Billy Joel tour who also buy Red Hot Chili Peppers albums. You can like Smashing Pumpkins and bands from the Seventies.

GW: When Nirvana's "Smells Like Teen Spirit" came out, everybody said, "The chorus sounds just like Boston's 'More Than a Feeling."' Do you hear a similarity between the two songs?

SCHOLZ: You know, I don't want to insult them, but I don't know that song. I've heard some of their tunes played in pool clubs and I like them. But if that song does sound like "More Than a Feeling," I take it as a major compliment, even if it was completely accidental. I don't mean to imply that they borrowed it from me, 'cause I simply don't know.

GW: What did you get interested in first-music or electronics?


SCHOLZ: Good question. I was always a Junior Engineer type. I made model airplanes and cars. I was into go-karts at a pretty young age. On the other hand, I've been into classical music since I was three or four. I'd sit in front of the huge speaker that my parents had-it was mono then-and blast out their classical collection. I think my mother let me do that because she was glad to have me out of her hair and know where I was at the same time. So I've been doing both things since I was very young.
blog comments powered by

Disqus