It's time to dust off long-neglected air guitar skills and relive the glory of rock-and-roll at its finest.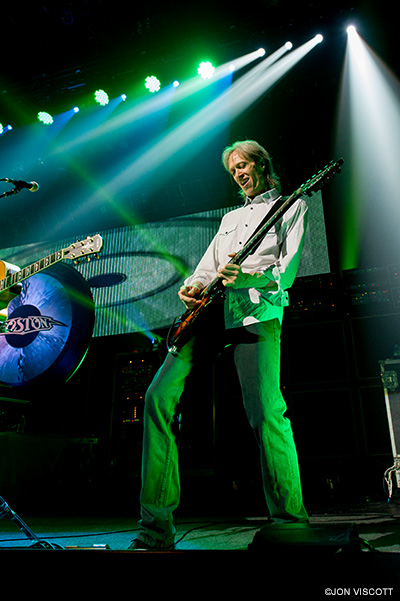 Boston, a representative of the heyday of American classic rock, is in the midst of its first nationwide tour since 2008. The band plays at Treasure Island Resort & Casino on Sept. 1.

Gary Pihl, Boston's longtime guitarist and backup vocalist, never expected to still be touring in 2012, but he has few complaints about taking the stage.

Watching the faces in the crowd smiling and singing along actually gets me choked up, Pihl said. Being away from home for such a long stretch is hard, but the feeling of performing is truly incredible."

You play guitar and sing backup vocals on this tour. What equipment do you use? Are you loyal to any particular brand?
I ve been playing Steinberger for almost 20 years. It stays in tune, sounds good, and is a really rugged instrument. It gives that unique Boston sound.

What do you think you d be doing as a career if you weren t a musician?
I ve enjoyed numerous things over the years and I ve been lucky enough to have been able to tie them together. Working with Tom (Scholz) on the technical aspects of Boston s audio equipment and designing amps over the last 20-plus years has been great. Photography is another interest of mine that I ve been able to incorporate into our music.

What current popular music do you enjoy listening to?
I listen to everything. I m a button-pusher in the car so I m constantly flipping between country, rock, hip hop, jazz, classical, you name it. If I don t know the artist I ll ask my kids. Sometimes they know the answer, sometimes they don t.

On your most recent tours, what have you noticed about the fan demographic compared to 30 ebony porn years ago? Are they the same loyal, albeit older, fans or are you drawing a younger crowd who may not have even been alive 30 years ago?
Both. It s great to see fans out there who are about my age and have followed our music through the years. Now, thanks to our songs being on video games like Rock Band and Guitar Hero, we see kids as young as 10 or 11 years old singing along and enjoying the music.

What s your favorite song to perform live?
I d have to say Walk On. It s a long song but very technically challenging. Everyone gets to do their thing and show off a bit. The live version is a bit different than the studio version in that it s longer.

What are your plans for when you retire?
Retire? My wife says that I ll never retire. I actually imagine that I ll still be working with music. I have a band on the side called December People. We play holiday songs in the styles of other rock bands and all of our shows benefit local food banks.

Sarah Shonyo is a Rochester freelance writer.

blog comments powered by

Disqus